ADP Presents Pinnacle Award to CSHRM
The March meeting of the Cullman-Area SHRM chapter was a celebration of the accomplishments of the chapter in 2013 that culminated with the nationally recognized Pinnacle Award. The Pinnacle Award is the highest honor given to SHRM state councils and chapters for highly notable contributions to the human resource profession. Nationwide, only 11 chapters received this recognition last year.
"Winners of this award are SHRM affiliates that have shown leadership in the HR profession through innovative and forward-thinking programs," said Henry G. (Hank) Jackson, president and CEO of SHRM. "Their efforts are a testament to our members, HR professionals, and their commitment to aligning people and business strategies. This year's winners offer solutions to timely and real-life challenges facing workplaces today, including the skills gap and helping military veterans return to the civilian workforce."
Winning programs received a $1,000 prize, given by ADP Inc., which has sponsored the award for over 20 years.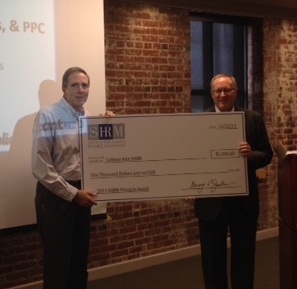 2013 CSHRM President, Jim Yoho, left, receives the Pinnacle Award from ADP representative, Michael Smith, at our March 2014 meeting
Among the goals achieved by our chapter in 2013 were (1) Chapter Growth, (2) Community Partnership, (3) SHRM Partnership, and (4) Professional Development. These accomplishments were essential to our success in earning this award.
The first goal, Chapter Growth, saw our membership increase from 14 to 26 members during 2013. Our second goal, Community Partnership, provided us with an opportunity to work with a local charity, DayStar House, during the 2013 Music Fest, where over $1,000 was raised to support a home for abused women and children. Our third goal, SHRM Partnership, was realized through several accomplishments, including, but not limited to, attendance at the state leadership council, a 22% increase among CSHRM members who became national SHRM members, and a Hill Visit. Finally, for Professional Development, our strategy was to redesign our monthly meetings to provide professional development, education, certification and community understanding of current events and trends in Human Resources. As a result of this initiative, we held two legal training sessions in 2013 that were approved by the HRCI. We also had the local sheriff to stop by and discuss the Guns in Workforce Law; held an "HR 101" for small businesses, a joint effort with the Cullman Economic Development Board; hosted Dorothy Knapp, Field Services Director for the Southeast Region, for another HRCI approved session; and organized a field trip for CSHRM members to visit the Cullman Regional Airport.
In summary, our chapter is positioned for a bright future in 2014 and beyond. We plan to continue to provide professional development opportunities for our members and to position the Cullman area for a successful economic future. Our next meeting will take place at noon on Wednesday, April 9 at the Cullman Chamber of Commerce.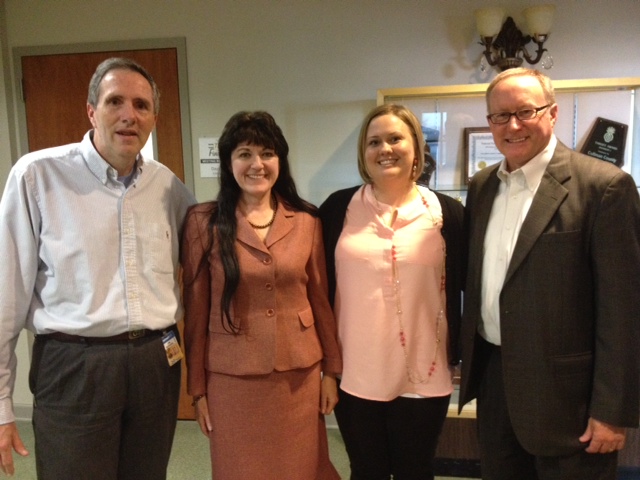 Among those in attendance at our March 2014 meeting (L to R) Jim Yoho, Pam Werstler, Michelle DeBord, and Michael Smith.